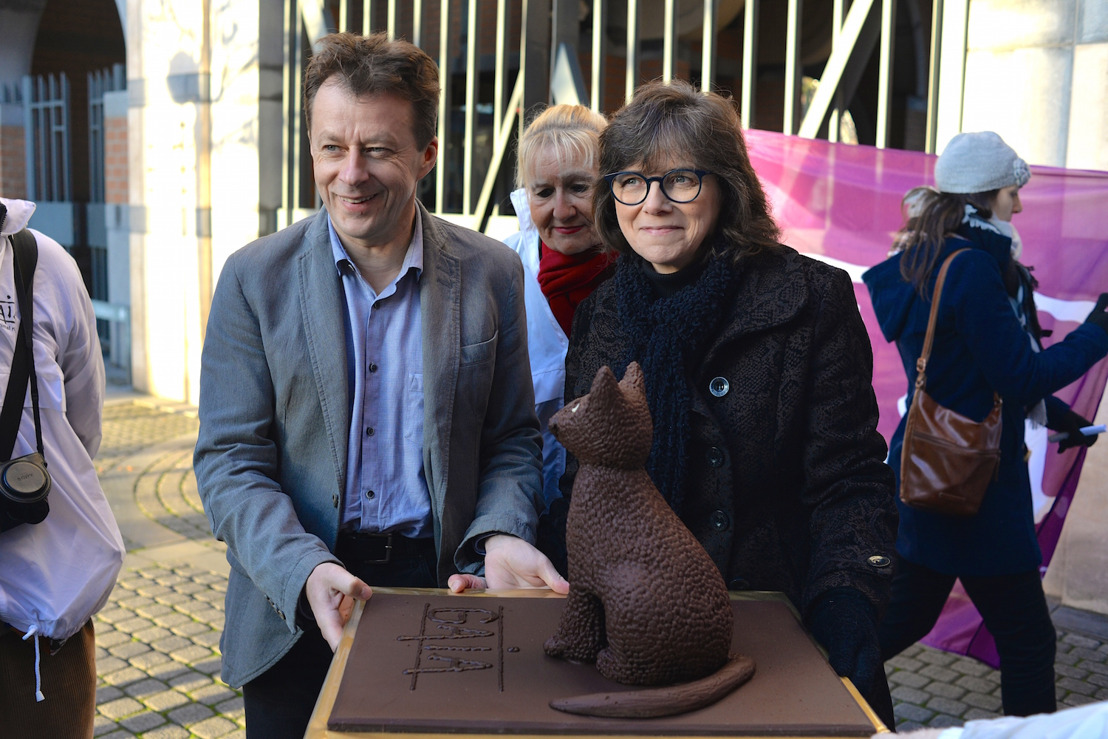 Domestic cat neutering mandatory in Wallonia, Belgium as from March 2017
GAIA: "We would like to thank the Walloon Government for this much needed, unprecedented and virtually unique law in the world that will help to prevent overpopulation and abandonment"
Thursday, December 15, 2016 —
GAIA organised a happening outside the headquarters of the Walloon Government this morning in recognition of the ministers' adoption this very day, on second reading, of a ministerial decree providing for compulsory neutering of all domestic cats.
A delegation from GAIA took the opportunity to give the Walloon Minister of Animal Welfare, Carlo Di Antonio, the initiator of the decree, a life-size chocolate cat made to measure especially for the occasion.
For Ann De Greef, Director of GAIA, this new law marks a decided step forward for cats' welfare: "By adopting into law this initiative by Minister Di Antonio, Wallonia has shown that it wants to attack the problem of feline overpopulation at the root cause.
GAIA praises this unprecedented and virtually unique law in the world and hopes that Flanders and the Brussels-Capital Region will soon follow suit!"
Due to overpopulation, cats are the first victims of their domestication. Animal shelters and animal welfare authorities have long deplored the tragic situation which thousands of stray cats have had to endure. For years, GAIA and other associations have been conducting awareness campaigns to encourage owners to neuter their pets. However, official statistics show that these efforts have been insufficient to solve the problem. For example, according to the latest official figures published in September, animal shelters in Wallonia took in 26,700 animals in 2015 compared with 24,400 in the previous year. And as if that weren't bad enough, 49% of all domestic cats taken in to shelters are euthanized for want of adoptive homes.
Wake-up call from shelters and associations finally heeded
To save tens of thousands of animals from a life of misery and premature death, a single solution was called for - a law for the mandatory neutering of all pet cats. Says Ann De Greef: "Faced with the tragedy of feline overpopulation and abandonment, the Walloon Government finally heeded our plea for legal action. In Wallonia, it will be mandatory to have your pet cat neutered as of 2017."
For GAIA as well as for the vast majority of animal protection associations and shelters, this measure should be perceived as part of a pet owner's civic duty and responsibility towards their pet, in the same degree as proper veterinary care. However, for cats born before entry into force of the new law, the text specifies that owners have a transitional period of two years to neuter their pets. Another novelty: the former law only required neutering if the cat was to be sold or given away. Now, mandatory neutering will apply to all cats, regardless of whether they go to a new owner.
The opinion of the Walloon Council for Animal Welfare
The new decree is based on an opinion from the Walloon Council of Animal Welfare adopted at the end of 2015 and made public by the Minister of Animal Welfare, Carlo Di Antonio. This opinion was further based on an opinion of the Federal Council for Animal Welfare from 2009 on measures to be taken with regard to the problem of stray cats and overcrowding in shelters.
No danger of extinction
Faced with the fears from some that this new law could inspire, Ann De Greef is reassuring: "It is illusory to think that the European pet cat will face extinction as a result of this law. Nevertheless, GAIA will regularly assess the situation, in order to allow relaxation of the law if an eventual balance is achieved between abandonments and adoptions in shelters."
--- End of release ---